If you read the title, then my big announcement has already been spoiled. But before I formally introduce the book club, let me first provide some context.
When you think of me, I'm sure you conjure images of me winning some sort of medal. Or maybe you picture me as an icon of fashion, walking the catwalk at Paris Fashion Week. Surely, I'm spending my days working on my Ferrari or signing motion picture deals with Warner Bros. or gearing up for my expedition on Mount Khuiten. Set aside your preconceived notions, because I'm about to blow your minds. Don't let it come as a shock that this is me on a typical day:
I'll give you a second to recover from that display of sheer manliness.
Now that your heart rate is back to normal, I'll continue. My days aren't filled with exotic animals or Armani suits; they basically boil down to two primary activities: 1) cleaning a multitude of bodily fluids from carpet, tile, and/or bare bottoms; and 2) work.
The Invasion of Screens
About a year ago, I started a new job that's completely remote. All meetings, calls and interactions with coworkers are done from the computer. More than eight hours of my day are spent in front of a computer screen. Sure, I'll take the occasional break to slice an apple for a desperately hungry kindergartener or maybe a quick break to free a toddler who got himself wedged behind the couch, but after all crises have been mitigated, I'll go back to my computer again.
After work and in between parenting duties, the moments I had to myself (i.e., bathroom breaks and the hour before I fell asleep) were usually spent on my phone or watching TV…more screens. Even if I took time to read a book, even those were on my Kindle, another screen. Added up, I'd say more than 75 percent of my life was staring at an electronic device.
Then I rediscovered the library.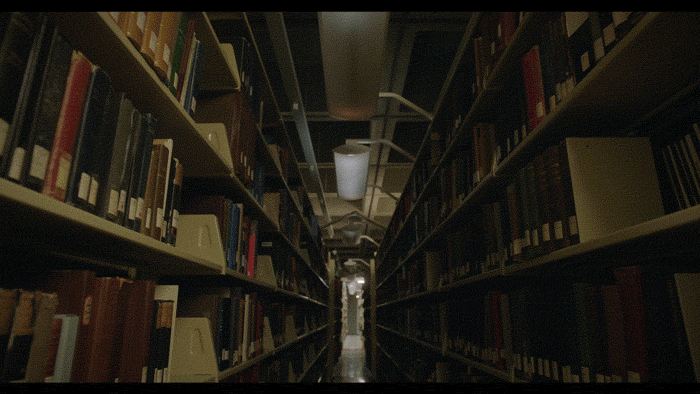 Did You Know Libraries Let You Check Out Books?
I've always been a big fan of the library, mostly because I've always been a big fan of books. Growing up, Scholastic Book Fairs were literally on par with a trip to Disney World.
I cut my teeth on Goosebumps and Scary Stories to Tell in the Dark. The Animorphs series carried me into puberty. Stephen King novels ushered me into adulthood. From the time I was really little, I always read at least one novel every 6-8 weeks. It was certainly not the legal definition of "a lot of reading," but definitely enough to qualify me as a book lover. Ironically, however, I never really went to the library to check out books.
I love the atmosphere of bookstores. There's something infinitely cozy about being surrounded by stacks of books. When I'm traveling, I almost always find my way to a Barnes & Noble or a used book shop. When I'm walking around in my hometown, I usually circle into the library. I don't really have much of an agenda when I go to bookstores or libraries. I just like the atmosphere. I'd wander the aisles. I'd admire book covers. I love the feel of books in my hands, the texture of the paper, so I'll flip through a few pages here and there. At bookstores, I'd leave with maybe a book. When at a library, I'd leave without checking anything out.
That all changed in February 2022.
Blind Date With A Book
To celebrate Valentine's Day, my local library set out a "Blind Date with a Book" display. If you haven't heard of this concept, a "blind date" book is a book that's been wrapped so you can't see what it is. Then, with nothing but a general description of the genre and plot written on the front, you're enticed to read the book without, ahem, judging it by its cover. I looked through the 15 or so they had sitting out, and this one piqued my interest:
This was the first book I'd checked out from the library for as long as I can remember.
Have I mentioned that I love books? I've always collected them, keeping the ones I read like trophies. The idea of reading a book and then *gasp* giving it back…well that was crazy talk. This blind date book was different. I wasn't picking it up because I heard a lot of good things or there was a movie coming out based on it. I had no preconceived notion and no expectation that I'd like it at all. All I had to go on was that it was action-packed and took place in the future. That was enough for me.
Before you scroll on, any guesses on what the blind book turned out to be?
–
–
–
–
–
The book was Firebreak by Nicole Kornher-Stace.
It was a great read. Nothing earth-shattering on the level of The Hunger Games or anything like that, but it was entertaining and had a nice plot. I took it back to the library, and that's when I saw they set out another feature table. Wait, is this something libraries do? Like, they hand-pick their favorite books and, like, recommend them? Didn't Amazon have the market cornered on book recommendations? Here at my local library, I had access to true book lovers – in literally every sense of the word – and I could let them filter through the hundreds of thousands of books out there to recommend the best.
This new display was a spotlight on science fiction, and the book I picked up ended up being one of the best books I've read in the last decade. I'm not revealing the title yet, and you'll see why soon.
Problem, Meet Solution. Solution, Meet Problem
Okay, so to recap, two things were happening at the same time. One, I took a remote job and realized I spent almost all my waking hours in front of an electronic screen. Two, I discovered the joy of checking out physical copies of books from the local library. What happens when you combine things one and two? You get the realization that physical books were the very respite I needed from computers and doom scrolling on social media.
Do you know how many books you can read when you replace social media with reading? In my case, more than 90 books in just one year.
In this digital age, I think it's more important than ever to unplug, and as time goes on, it's getting harder and harder to do that. This past year has inspired me to take up a crusade. I want to spread the joy of physical books. I also want to spread the joy of great stories. That's why I'm launching The Not-the-Mama Book Club.
The Not-the-Mama Book of the Month
The Not-the-Mama Book Club is a celebration of the written word by spotlighting everything that makes a physical book special. Each month, a book will be awarded as The Not-the-Mama Book of the Month. These books are the absolute best stories out there. There are no specific genre or publication date requirements. You'll see books from fiction to nonfiction. There will be romantic comedies, science fiction adventures, fantasy epics, tales of suspense…every genre is on the table as long as the story is astounding.
To celebrate each Book of the Month, we'll hold a giveaway where you'll get the chance to win that book. The authors have also agreed to be featured on the blog, so you'll get the inside scoop on the creation of these stories…directly from the people who wrote them.
I am so excited to announce the first The Not-the-Mama Book of the Month, but you'll have to wait a few more days. My first selection is the fantastic sci-fi book I picked up on my second trip to the library, and I'll be revealing it on February 1.
The Not-the-Mama Blind Date With A Book
Another aspect of The Not-the-Mama Book Club is in honor of that first book that set me on this journey. Soon, on this site, you'll be able to purchase your own blind date books. I'm releasing my collection that's two decades in the making. These blind date books are all first-edition hardbacks, and they're all the best stories on the market. I'm serious. I've got the first stack of books here beside me and just here, I have novels by John Grisham, Neil Gaiman, Tom Clancy, Stephen King, Karen Kingsbury, JK Rowling, J.R.R. Tolkien, Brandon Sanderson, and Nicholas Sparks. I'll have more information on how to get these Blind Date Books really soon.
In Summary
The Not-the-Mama Book Club is my attempt to get more people reading books. And for those of you that say you don't have time to read because you're too busy, do this little experiment. Go into your phone's settings, and take a look at "Screen Time" (or "Digital Wellbeing" for you Android users). There you'll see how many hours you spend on your phone each week. This should shock you.
So my advice? When you take that 40-minute potty break as your only "me" time in the day, bring along a book. And keep your browsers on this site for a great recommendations on which one.
---
Thank you for visiting The Not-The-Mama Dad Blog, a parenting-focused website with funny stories, celebrity interviews, and project reviews.
Follow us: